St Jude's Primary Academy has an admissions limit of 60 pupils per year group in Key Stage 1 and Reception. In Key Stage Two, our admissions limit rises to 64 pupils.  We also have a Nursery and Terrific for Two's availability. Classes are organised in mixed abilities although there are times when pupils may be taught in ability sets across their age related year group.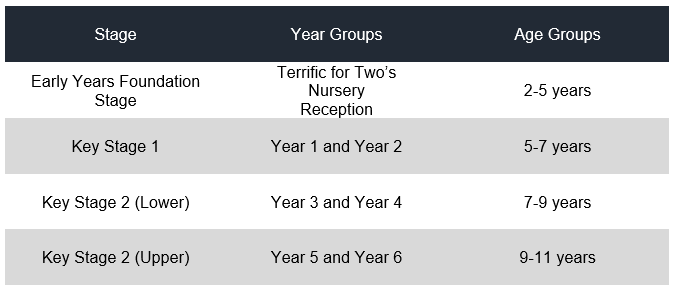 St Jude's also offers Before and After School care through our 'Rainbows Club'. 
8:30 
Gates to site opened and supervised
8:30
Doors open and children received by class teacher. Start of day activities
8:55
Gates to site closed
12:25
Nursery Registration closes
12:10
Reception and Key Stage 1 Registration begins
12:20
Reception and Key Stage 1 Registration closes
1:20
Key Stage 2 Registration begins
1:30
Key Stage 2 Registration closes
Since the outbreak of COVID 19, the school day has been altered to accommodate staggered drop off and collection times. 
Drop off now starts from 8:30 am at classroom doors until 9:05am. 
Collection begins at 3:15pm until 3:45pm 
Teachers plan in year group teams in order to ensure that all children share similar experiences and have equal access to a broad, balanced and stimulating curriculum.
Assessment and record keeping is agreed throughout the school and a written report is produced for parents at the end of the Summer Term. The school offers opportunities for parents to discuss their child's progress during termly consultation appointments. There are also open mornings where parents can pop into school and observe their child in different subjects.